Photographing molluscs has always had its problems; many molluscs are small in size and often correct identification relies upon examination of the shell or animal itself, rather than the image. Yet the role of conchological photography in the areas of preserving records of shell-less molluscs such as slugs, habitat recording, collection curating, publications, teaching materials and identification guides is an important one. This type of photography relies on the ability to record images of sometimes poorly lit (especially in the field), intricate subjects which ideally require a camera with a wide aperture range, macro lens, a set of potential shutter speeds to match and if you want to be really professional in your approach, a ring flash. At the other end of the spectrum you may need a wide-angle lens to take habitat photographs. However the digital camera revolution has opened up new possibilities and it is now well worth considering this as an alternative to more traditional methods of photographic recording.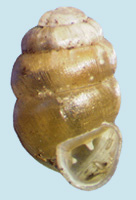 Vertigo alpestris
– approx. 2mm. high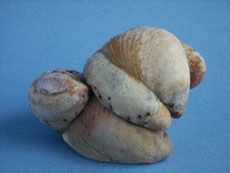 Chain of Crepidula fornicata – size approx.40mm. high
Part of the decision of whether or not to use digital photography in the area of conchology revolves around the primary purpose of the photographs you will be taking. If, for example, your main interest is in capturing images for later use in talks or presentations, then you may need to consider traditional reversal film photography for the production of slides. The purchase and maintenance of a video projector for presentations incorporating digital images still largely remains in the realm of the professional, although these have recently fallen in price considerably.
The main advantages of digital photography are the ability to:
view the image on the camera immediately after it has been taken so that a decision can be made to make adjustments if necessary and re-take the image or accept;
manipulate the image at the computer afterwards using powerful image processing programs;
share those images with others in many ways including web publishing, e mails, home printing and in published documents;
create archives of images which can be stored electronically.
There are numerous books written on the theory and practice of digital photography and this is not the place to discuss such topics as image manipulation in detail, however outlined below are a few hints which may help in obtaining reasonable images of molluscs and/or their shells.
Camera specifications
Viewfinder / Macro facility. The digital equivalent of traditional Single Lens Reflex (SLR) cameras with "what you see is what you get" viewfinders and interchangeable lenses are at present very expensive. However most digital cameras have a preview screen which shows an accurate electronic image of the subject, essential for close up photography. Some cameras also transfer this electronic image to the eyepiece. Choose a camera with a "super macro" setting, focusing down to as near as 1.5-2 cm from the subject.
Resolution. Low number of pixels = low resolution, and visa versa. A 6 million pixel resolution can produce a maximum image size of 382 x 250mm at 200dpi. Ideally you should aim for a camera of 3-6m pixels, for example to give non-grainy images for useful size prints for presentations.
Depth of field. As usual with macro photography, keeping most things in focus when taking images of small molluscs is only possible if you have the ability to close down to small aperture sizes of F11-F32. It is therefore important to purchase a camera that includes an "Aperture Priority" mode, enabling you to set the aperture whilst the camera adjusts the exposure. Unfortunately most digital cameras with this feature have F11 as their final stop and do not feature an exposure longer than 1-5 seconds, but this is adequate for the majority of needs.
Other features. Other features which I find essential, or at least useful, are: a tripod screw thread (some of these are plastic moulded - make sure yours is a metal one); a shutter release cable socket; a hot shoe for using remote flash; indoor lighting compensation and a delayed shutter release facility (useful for avoiding vibrations after operating the "shutter release" when the camera is on a tripod if you can't use a cable).
Photographing shells
Size. The size of shell you will be able to photograph will obviously depend upon the specifications of the camera, but with digital photography it is possible to set the camera to maximum resolution, take an image of a shell which looks very small relative to the area of view, then crop afterwards to the area of the shell. Increasing the size of the image will enable most features to be observed but the image resolution will be reduced. I have photographed shells down to 4mm in size quite successfully using this method.
Camera mounting. A tripod is necessary if you are going to use longer exposures, and you should be able to adjust the distance and angle between the camera and subject. Alternatively small camera brackets can be purchased. I have used one to attach a camera to the leg of an ironing board! If you can't move the camera easily then move the subject, using, for example, small expanding stands which are available from some scientific supply companies.
Background. Lifting the shell from the background will enable the production of a clearer final image. Medium sized shells can be photographed by raising them above a black background (such as a small piece of velvet cloth). A length of narrow wood (such as a narrow wooden dowel) is pushed through the cloth into a layer of polystyrene underneath. The shell is then secured by adhering them to the end of the wood with plasticine (or similar). Care must be taken when the specimen has a thin shell or periostracum. The picture is then taken against the background which is beyond the plane of focus and eliminates shadows appearing in the image. Later, an image processing program is used to outline the image (for example by using the "lasso" tool in Photoshop) and paste it onto a more suitable background (such as white) for printing.
Lighting. By far the best lighting is that provided by the sun and this should be used whenever possible! On the other hand the use of a ring flash brings even lighting to close subjects, but it is often not possible to use this with all but professional level digital cameras. Direct sunlight brings sharp shadows and areas of deep contrast. These can be softened by using indirect light and reflectors made with card covered in kitchen foil. Placing the shell in a small cardboard box with white coloured sides may be a simple alternative. The effect of flashlight can also be softened by bouncing off reflective surfaces, or through tissue paper.
Photographing snails and slugs
Contrary to popular belief, when a snail, or especially a slug, is in front of a lens, it moves surprisingly quickly! Therefore mounting the camera on a tripod often restricts the necessary flexibility required unless the subject is aestivating, especially in the field. However a small "pocket" tripod is often useful.
If necessary, due to low light conditions or inaccessibility, remove the animal to a more convenient place after taking an overall image of the immediate habitat, as required. Note on the other hand that a mollusc will move away from any direct, bright lighting (and therefore away from your camera).
Try to place on a "simple" yet typical area of background with room to for the animal to move around, such as a large leaf or stone.
Take as many images as necessary for identification and recording (the big advantage of digital photography). One of the easiest images is from the side. Some digital cameras have a lens that expands from the camera when in use. The lens can be rested on the ground or low object, to provide stability at lower shutter speeds, in order to do this.
You may need to manipulate the captured image later to adjust contrast, texture, colour or sharpness. However tempting it may be to "improve" the image, avoid changes that will cause the image to depart from a close resemblance to the original!
As in other areas of electronics, digital photography development means increasing image resolution and variety of cameras available, including those which may be used for underwater photography of marine/freshwater species.
Lastly, large image libraries may now be stored on re-writable DVD disks with 5Gb storage capacity, reducing yet further, in a conservation-minded era, the need to collect more specimens than absolutely necessary.
Further Reading
Andrews P., The Digital Photography Manual, Carlton Books, London 2002