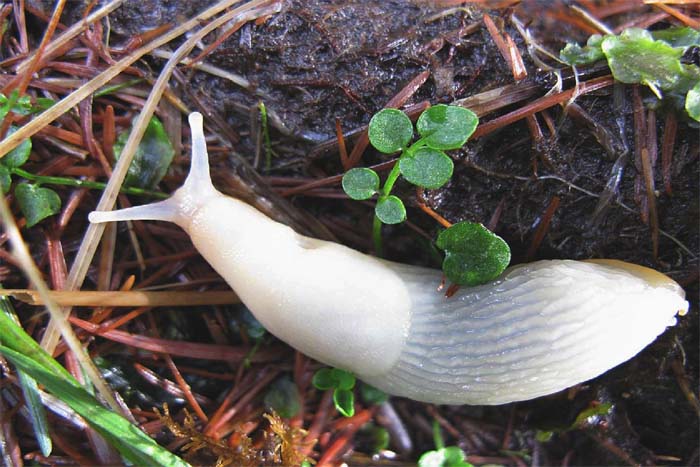 Arion ater is well known to be very variable in colouration - from jet black right through to white. Until recently, however, neither of us had seen any pure white specimens. One of us (RC) observed three pure white individuals at Storr woodland (exotic conifer), Skye (NG5052) on 1st April 2009. About 300 metres away, along the same burn side, RC observed a second group of 9 pure white individuals. All these individuals were adult and, also in the area, were the usual pure black specimens. We should remark that, in Skye, Arion ater are almost invariably uniform jet black and they are abundant.
Arion ater is well known for its extreme reluctance to cross-mate. In fact, even after several years of walking over the Arion ater-infested Highlands, RC has only observed mating individuals once (27 May 2002, NG7117 near Kinloch, Skye). Self-fertilisation (or parthenogenetic reproduction) ensures offspring are closer in appearance and behaviour to the egg-laying parent than would be the case in conventional cross-mating. The appearance of several white slugs in two adjacent clusters, suggests a white founder-parent (perhaps resulting from a mutation) producing several white near-clones. If the white colouration proves no disadvantage to survival or reproduction, there is no
reason why they should not thrive and continue to self-propagate more of their own kind. This might be preferable to going to the trouble of finding other slugs with which to cross mate in the hope of producing a more variable collection of offspring, some of which might be more fitted to survive in the woodland habitat.
We both revisited Storr in an attempt to find these white slugs in August 2009. Alas, the rain was so heavy that almost all slugs were sheltering too deep in the vegetation to be located. We found one recently dead white slug and a very few small non-white individuals. Whether the white individuals will survive sufficiently well to breed and establish a White Slug of Storr tourist attraction remains to be seen.
Photograph: Arion ater - white (by Roger Cottis)