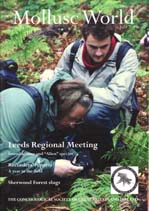 Mollusc World is the full colour magazine of the Conchological Society. It is intended as a medium for communication on all aspects of Molluscs from archaeology to life in the sea, field collecting at home and abroad and even eating molluscs. It includes articles, field meeting reports, research news, results from the mapping schemes and identification keys. All contributions in any form are welcomed.
The first issue was published in March 2003 and replaced the Newsletter; there are normally three issues a year. Full members of the Society receive Mollusc World free of charge.
Index and contents
| | |
| --- | --- |
| The index and contents of the following issues can now be viewed on-line: | For more recent issues only the index can be viewed on-line: |
How to submit articles
Copy (handwritten, typed or electronic) should be sent to the Editor at the address below. If sending electronic copy using e-mail please include a subject line "Mollusc World submission". When emailing several large file attachments, such as photos, please divide your submission up into separate emails referencing the original article to ensure receipt. Electronic submission is preferred in Microsoft Word, but if other programmes (e.g. Works) are used, please indicate the programme used with the accompanying e-mail. Images and Artwork may be digitised, but we recommend that a digital image size 200Kb- 1Mb (JPEG preferred) be sent with your submission. For line art we recommend that you send hard copy, all originals will be treated with care and returned by "snail-mail". Authors should note that issues of the magazine may be posted retrospectively on the Conchological Society's web site.
Please send articles to:
Peter Topley, c/o The Hon. General Secretary, Miss R.E. Hill, 447b Wokingham Road, Earley, Reading RG6 7EL (or alternatively Peter's address may be found in the member's guide);